MPI Prospector
A dynamic visualization tool enabling you to analyze fund peer groups and universes across an unlimited library of pre-set and custom performance-based analytics.
MPI Prospector is a powerful visualization tool that drives a range of functionality for our clients. Whether your goal is to select and monitor top performing funds within a particular category or you are looking to improve your team's product development and competitive positioning capabilities, Prospector delivers deeper insights and helps improve investment outcomes.
Compliance and risk teams also use Prospector as a surveillance tool to flag sudden changes in fund or product performance. This is the same technology that the U.S. Securities and Exchange Commissions licensed from MPI to conduct mutual fund and hedge fund surveillance.
Fund Monitoring Dashboard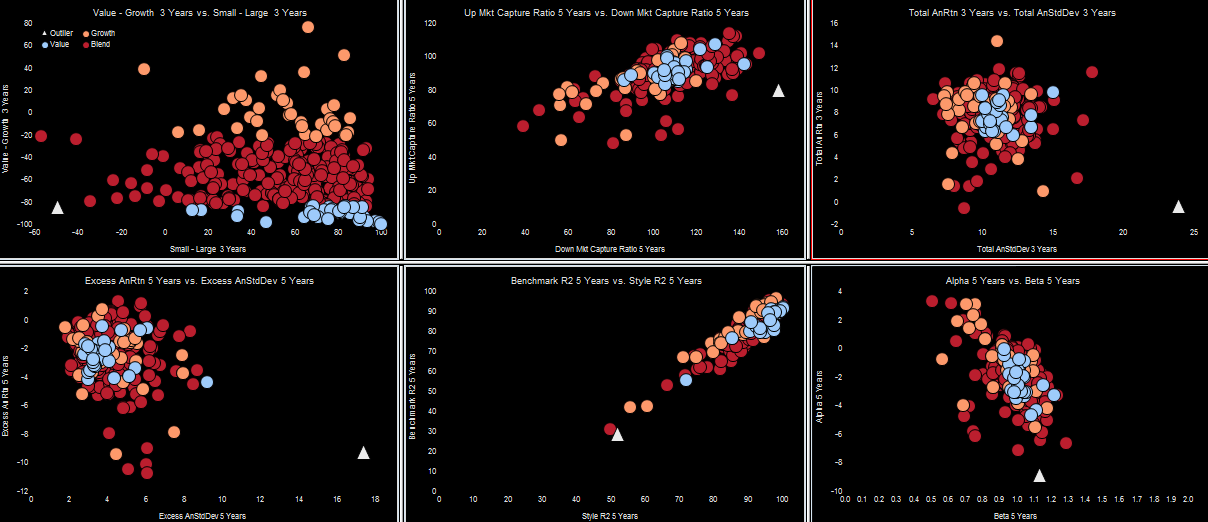 Key Benefits
Leverage visualization capabilities in data analysis to identify individual funds and products within larger peer groups and universes.
Identify and examine the relationships between manager and product characteristics that can escape traditional or non-visual analysis.
Monitor fund or product behavior overtime to identify sudden changes in performance.
Produce institutional-quality reports highlighting individual fund or product performance relative to the larger peer group.
Key Features
Create custom rating systems and monitor the behavior of funds and products within those systems.
Highlight subsets of funds or products within your selected fund universe and analyze across a virtually unlimited number of metrics.
Seamlessly export individual funds and products to Stylus for more in-depth analysis.
Create custom peer groups for your analysis and report templates.
Leverages the same data acquisition, analysis, design, reporting and scalability functionality as the Stylus module.
Optional Packages
Automate the entire process to run your research and reporting capabilities with a single click.
Access SQL databases (Oracle, Access, SQL Server, etc.) using Open Database Link.