Intrepid Small Cap Success: Stock Selection or Market Timing?
The Intrepid Small Cap Fund (ICMAX), managed by Eric Cinnamond of Intrepid Capital Funds, has garnered noteworthy media attention this year. Bloomberg Online's June 3, 2009 article featured Cinnamond's fund as the only diversified stock manager to outperform Bill Gross' venerable Pimco Total Return Bond fund over the trailing 3-year period (through 5/26/09):
Wall Street Journal's print edition on October 5, 2009 also featured Mr. Cinnamond as placing second in the Winner' Circle contest for the 12-month period through September 2009 (posting a 29% return).
We decided to take a closer look using daily data and returns-based style analysis (RBSA), and found Mr. Cinnamond' selection skills over the past eighteen months have been strikingly strong relative to other small capitalization mutual funds.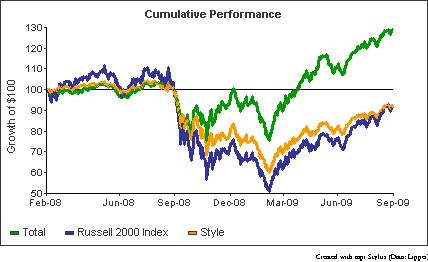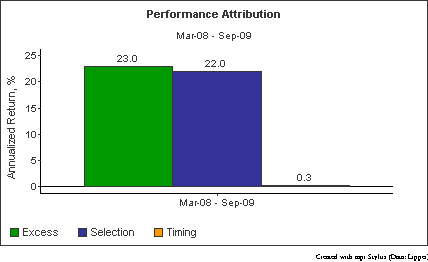 We were surprised to find timing contribution was only incremental given Mr. Cinnamond's sizeable moves into cash and other sectors over this period of high market volatility. Most of the excess performance as determined by the sector specific returns-based style analysis model was generated through selection as shown in the chart above. Together, the combination of both timing and selection skill led to dramatic excess outperformance of 23.0% over the Russell 2000 Index for the period March 2008 to September 2009.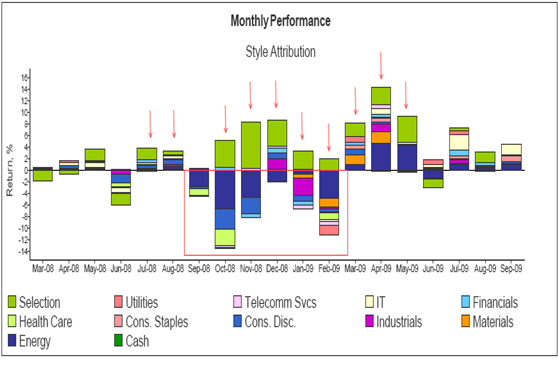 Click here to download the PDF.
MPI clients: To obtain the mpi Stylus Pro daily attribution template, please contact support@markovprocesses.com.