Chart of the Week: GMO Quality – Accidental Allocator
Salient Points: Over the past 12 months, GMO Quality emerged as the best 'timer' or sector allocator of any fund in the large- and multi-cap U.S. equity universe, when weighed against the S&P 500. Ironically, the fund is known for its stock selection. Its outperformance is attributable to consistent, steady exposure to certain in-favor sectors, […]
August 02, 2012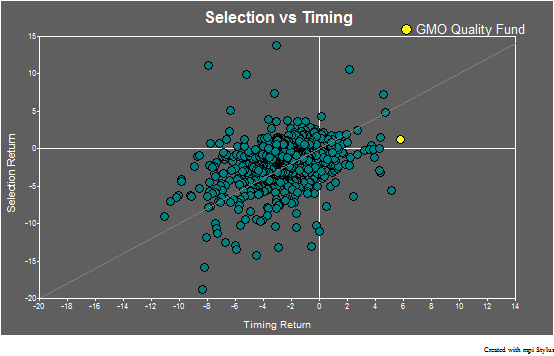 Salient Points:
Over the past 12 months, GMO Quality emerged as the best 'timer' or sector allocator of any fund in the large- and multi-cap U.S. equity universe, when weighed against the S&P 500.
Ironically, the fund is known for its stock selection.
Its outperformance is attributable to consistent, steady exposure to certain in-favor sectors, not rapidly entering and exiting the market and certain sectors.
Daily NAV data (rather than monthly or quarterly) is crucial to see these results.
When examining a great performing fund's excess return vs. a benchmark, it is important to look at the fund's performance attribution in terms of timing and selection. Timing is related entirely to the dynamic style, or sector allocation, bets vs. the benchmark. Selection, on the other hand, pertains to the performance of individual securities not explained by sector factors.
Read the full article
Sign in or register to get full access to all MPI research, comment on posts and read other community member commentary.