Asset Allocation Software
MPI asset allocation software was developed to meet the needs of allocators who require powerful, yet flexible, analytics to help them communicate and differentiate their asset allocation philosophy.
Powerful Insights
Whether you are a wealth manager seeking to build better client portfolios, or you are an institutional investor or consultant looking to improve strategic and tactical allocation models, MPI Stylus solutions can help.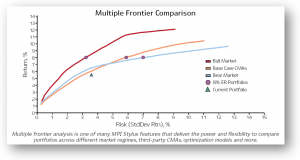 Flexible Analysis
Our technology delivers analytics that are as flexible as they are powerful to help you better visualize your asset allocation decision making process.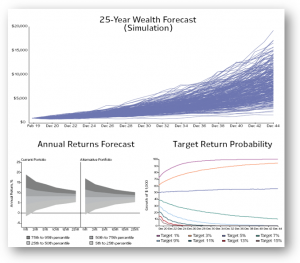 Key Benefits
Flexibility to employ multiple optimization models, including MVO, Black-Litterman, CVaR, downside risk, mean-benchmark tracking, surplus (liability-driven), and more
Simulate future outcomes that include fat-tailed, extreme possibilities that other systems often miss
Save time and money with one comprehensive software platform that provides both historical and forward-looking analysis capabilities
Key Features
Demonstrate how individual portfolios might perform using historical regimes and foreword-looking theoretical scenarios
View the efficient frontier from almost any statistical perspective
Design your own charts, tables and reports, or select from a number of "out-of-the-box" templates
Create robust, stress-tested portfolios across thousands of hypothetical outcomes with MPI's patented Calibrated Frontiers
Identify results that are generated by asset allocation and portfolio optimizations leveraging MPI's patented Frontier Map®1 functionality.
MPI Stylus Pro's quantitative models and methodology paired with our Advanced Analytics module can improve your firm's portfolio construction and optimization process. To find out how, contact us at +1 908 608 1558 or via email.
Footnotes
1

FRONTIER MAP® is a registered trademark of Markov Processes International.