Fund Rating System
MPI's powerful technology enables investment professionals to build custom fund rating systems that differentiate their business with due diligence rigor while reducing the amount of time and resources required for ongoing monitoring.
For more than 15 years, MPI has powered some of the most innovative and widely utilized custom fund ratings systems in the industry. Fund selectors that are not content to rely on ubiquitous third-party fund ratings or out-of-the-box systems use MPI to power highly differentiated and insightful engines for fund selection and monitoring.
MPI's flexible software and unique fund rating capabilities offer an unparalleled set of features for wealth management firms, institutional consultants, defined contribution advisors and record keepers, and other investment organizations seeking to apply their own criteria to fund selection.
MPI Fund Rating System Workflow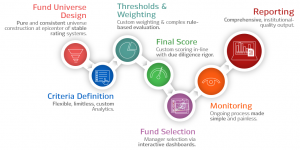 MPI Rating System Differentiators
Fund Universe Creation
MPI's peer group construction capabilities provide users with almost unlimited flexibility in defining the way funds can be scored. Whether you want to rely on established vendor categories, create subsets and refined groups, or structure your own custom universes, MPI software can do it all.
Ability to separate or merge peer groups by product types
Easily combine funds from multiple data sources
Flexibility to create your own peer groups by both qualitative (active vs. passive) or quantitative (style pure, risk based) metrics
Fund Criteria & Thresholds

Powered by MPI's live investment product return and calculation engine, users can define and calculate a limitless number of analytics.
Comprehensive rating criteria that incorporates quantitative, qualitative and fundamental variables into your scoring system
Incorporate custom benchmark calculations across all metrics
Apply rolling or other user-defined time periods
Define your own custom metrics (e.g., If Up Capture is greater than Down Capture Ratio)
Create complex or rules-based threshold evaluation
Cutting-edge risk analysis features allow you to see how funds within a given peer group have performed during historic stress periods and regimes, and how they might behave in any number of hypothetical "shock" scenarios
Custom Fund Score

In addition to scoring individual metrics, MPI's software delivers the ability to apply complex logic or weighting schemes to create a total fund score.
Sophisticated scoring features allow you to employ simple weighting schemes or complex algorithms
Quickly identify funds that meet performance criteria valued by your firm's unique rating standards
Leverage a custom scoring system to highlight your firm's due diligence rigor
Apply different scoring methodology or weightings to various categories or product groups
Back-testing capabilities enable you to assess rating system stability and changes over time
Fund Selection & Monitoring
Users of MPI's software can visualize fund scores through interactive dashboards, within reports, or export data seamlessly into other applications.
Streamline manager selection with powerful visualization tools
MPI's renowned custom reporting capabilities allow you to create intuitive and differentiated materials to convey your firm's unique fund due diligence priorities
Turn ongoing fund monitoring into a simple and painless process
To learn how MPI Stylus Pro software can improve your firm's fund selection and monitoring process with great gains in efficiency and cost-reduction, please contact us at +1 908 608 1558 or via email.
Our Enterprise Solutions team can also work with you to develop, implement and support a custom solution to meet your firm's unique needs.