Chart of the Week: Bridgewater All Weather and Permanent Portfolio
Progenitors of risk parity and TIPS, facilitators of the Chicken McNugget, and managers of the world's largest hedge fund, Bridgewater Associate's now $65bn All Weather Fund has become legend amongst institutional investors (to say nothing of other asset management firms) looking to weatherproof their beta and modernize their portfolios. Predicated on Ray Dalio, Bob Prince […]
February 13, 2013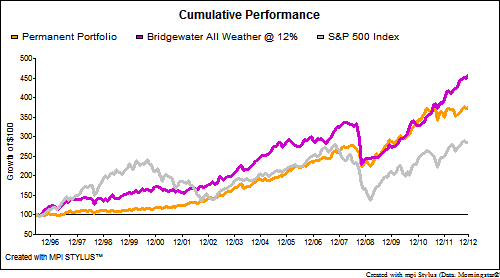 Progenitors of risk parity and TIPS, facilitators of the Chicken McNugget, and managers of the world's largest hedge fund, Bridgewater Associate's now $65bn All Weather Fund has become legend amongst institutional investors (to say nothing of other asset management firms) looking to weatherproof their beta and modernize their portfolios. Predicated on Ray Dalio, Bob Prince and Greg Jensen's belief that there will always be surprises, and guessing which will be next is a fool's errand, the strategy apparently balances a portfolio's risk in an effort to perform in any economic environment "the machine" can throw at an investor.
Read the full article
Sign in or register to get full access to all MPI research, comment on posts and read other community member commentary.