How Brown Outperformed for the Second Year in a Row
For the second straight year, Brown outperformed all other Ivy endowments by a large margin. Our research team, using MPI Stylus Pro to dissect the endowment annual returns, provides a plausible explanation of the endowment's spectacular results.
November 18, 2020
For the second straight year, the Bears outperformed all other Ivy endowment teams by a large margin, producing 12.1% return in 2020 Fiscal Year (FY20) ending June 30th, – bringing the endowment's value to $4.7B, an all-time high. Dartmouth was a distant second with 7.6%. What's truly remarkable is that out of the 8 Ivy League Schools, Brown was the only one to outperform a domestic 60-40 equity-bond index portfolio for two years straight.1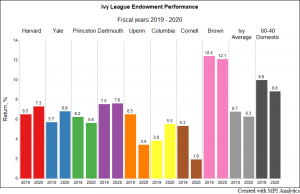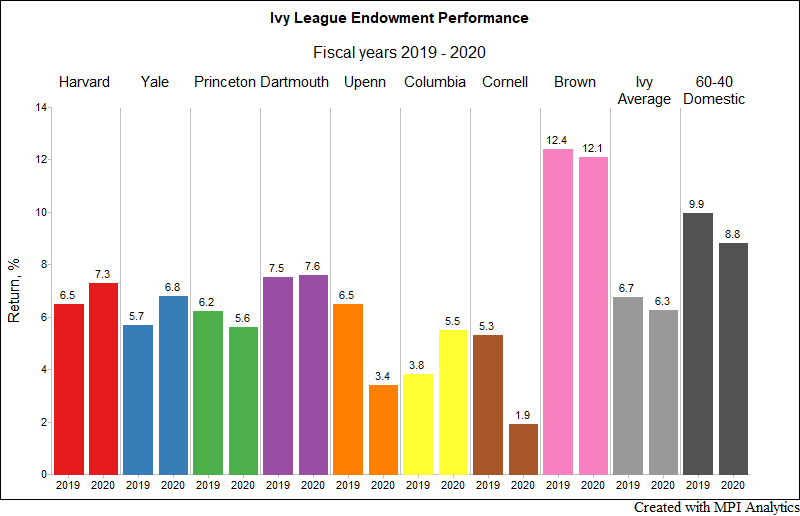 Brown's outstanding performance for FY 2019-2020 also brought them to the top of the pack on a 10-year return basis. With a 10.2% annual trailing 10-year return, Brown now joins Yale (10.9%), Princeton (10.6%), and Dartmouth (10.2%) – to outperform the domestic 60-40 (10.1% 10Y return).
Read the full article
Sign in or register to get full access to all MPI research, comment on posts and read other community member commentary.