On Fireworks and Smoke Screens
A WSJ article features a fund which outperformed all of the actively managed US stock mutual funds by a large margin. We found its twin ETF from WisdomTree that was spared the accolades. And we use advanced quant techniques to dissect the strategy and its winning bets.
July 06, 2022
The Wall Street Journal celebrated July 4th by publishing an article listing US Fund managers who had significantly outperformed during the ongoing rout of the market ("The Few Mutual-Fund Managers Who Avoided the Debacle").
One fund, in particular, got the reporter's attention because it outperformed all of the rest of the 1,342 actively managed US stock mutual funds tracked by the WSJ. Federated Hermes Strategic Value Dividend Fund (SVAIX), managed by Daniel Peris, returned 11.8% for the 12 months through June 30th vs. a -6.8% loss for the Russell 1000 Value Index and an -8.6% loss for the S&P500 Index.
An Impressive Run
In the chart below, we confirm the SVAIX's remarkable results vs. the Russell 1000 Value Index over the trailing 12 months; in early 2022 the index dives (and dives, and dives) while the fund takes off and outperforms by 18.6%.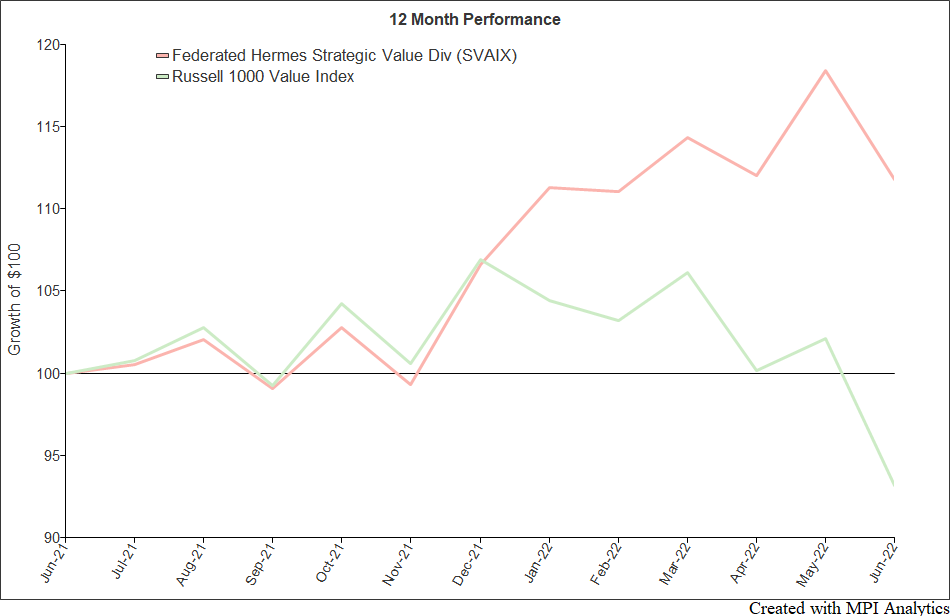 So, what's the explanation for this tremendous run? The article points to the strategy reflected in the fund's name – strategic value dividend – wherein the portfolio manager is focused on the highest-dividend paying stocks. The article notes, for example, that the fund has a "4.53% dividend yield, well above index levels of 2.3%."A good explanation, and certainly a nice writeup for Mr. Peris.
Read the full article
Sign in or register to get full access to all MPI research, comment on posts and read other community member commentary.