Retirement plan analysis, monitoring
and reporting application for advisors
The intuitive interface of MPI Stylus Web was built with advisors in mind.
With streamlined workflows backed by the analytic strength of our institutional tools, advisors can protect and enhance their practices and increase competitiveness with flexible plan reporting, unmatched QDIA monitoring with TDF suitability reviews, and custom scorecards powered by MPI's best-in-class analytics that alert advisors to key changes in funds.
MPI Stylus Web Highlights
---
Custom fund scorecards with 100+ analytic options. Use defaults or specify thresholds, weights, and watchlist criteria.
---
Target-date suitability analysis helps sponsors determine the TDF family that best fits the needs of their participants.
---
On-the-fly analytics allows unparalleled flexibility such as ability to change a fund's benchmark and peer group.
---
Powerful, customizable reporting differentiates advisor practices through better analytics and unique content.
---
Global fund view aggregates investment products across an advisor's book of business, allowing efficient commentary and replacement of problematic funds.
---
Robust data sources including Morningstar mutual fund, ETF and variable annuity data, eVestment Alliance separately-managed account data, and more than 70,000 market indices. Users can import their own manager or portfolio returns as well.
MPI Stylus Web
Reporting Power and Flexibility
---
Plan-level reports
---
TDF Radar reports
---
Portfolio analysis (models)
---
Fund factsheets and comparison reports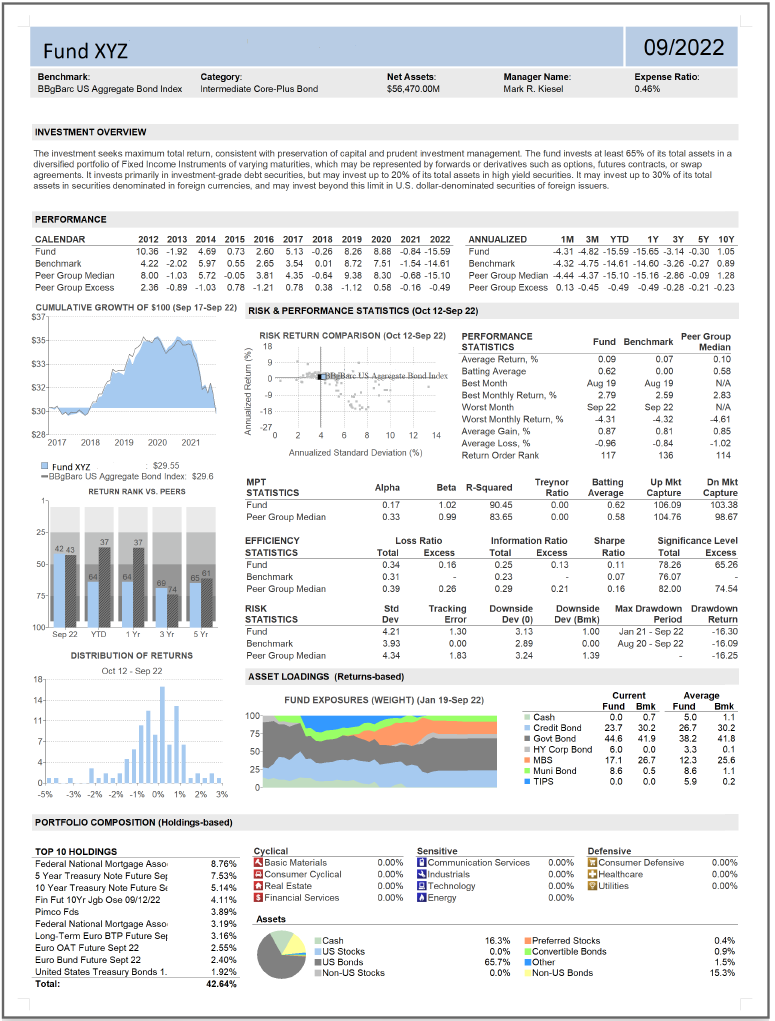 ---
Additional customization
Optional service incorporates clients' proprietary analytics, branding, and compliance standards
Would you like to see a type of report not listed here?
Just reach out and let us know.
MPI Stylus Web
Target-Date Radar
MPI Target‐Date Radar, available within Stylus Web, is the most effective advisor tool to evaluate and monitor TDFs and help plan sponsors choose suitable funds for their plans.


Key Features
---
Decision Questionnaire
Easily gather a plan's objectives and demographics to assess preferences for active/passive management, open/proprietary architecture, nontraditional assets, glide path, and "to vs. through."
Intuitive TDF Family Comparison Dashboard
Generate custom scoring based on suitability criteria. Easily navigate ranked universe of TDFs.
Industry's Most Comprehensive Reporting
Readily present TDFs against peers, supporting selection decisions and monitoring.
Patented Modeling
MPI's Dynamic Style Analysis reveals the drivers of each fund's behavior, signaling changes in style more precisely than other methods.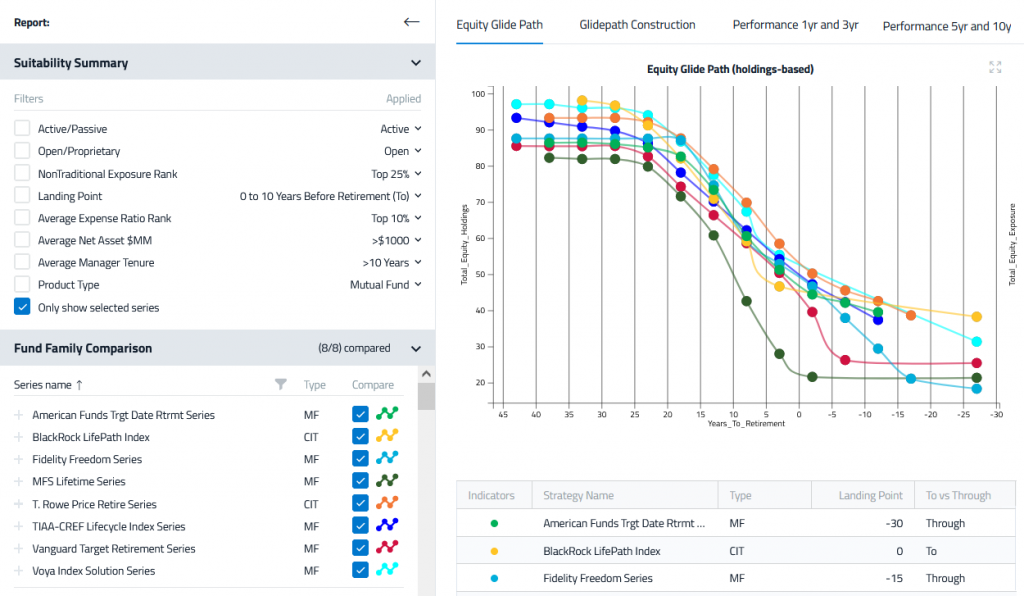 Key Benefits
---
Advisor Focus
Target Date Radar was designed in conjunction with a leading institutional consultant to better reflect practitioner considerations including workflow, efficiency, and client service.
Unmatched Glide-path Understanding
MPI's proprietary glide path assessment reveals how well each TDF family is poised to manage longevity, volatility, and inflationary risks—our unique "LVI" analysis.
Fulfill Fiduciary Duty
MPI is an independent fintech firm and does not offer investment products. With an objective, repeatable, and documented process, Target-Date Radar supports advisors and plans in upholding their fiduciary responsibilities.
More about MPI Target Date Radar
---
Does your team advise clients on target date fund suitability? If so, MPI's Target Date Radar, available within MPI Stylus Web or as a stand-alone tool, can streamline the process while helping you meet new Department of Labor fiduciary standards.
Learn more
MPI Stylus Web
Fund Scorecard
Not all scorecards are created equal. Powered by MPI's industry-leading due-diligence platform, Stylus Web lets advisors provide institutional due diligence and oversight in an easy-to-use tool with unmatched flexibility.
---
With more than 150 ready-to-use metrics, Stylus Web provides the most complete and useful set of analytics and time periods (including rolling periods).
---
Dynamically generated calculations provide users the flexibility to change assigned peer groups and category benchmarks on the fly.
---
Differentiated scoring for active, passive, and TDF funds means a higher level of service to plan sponsors.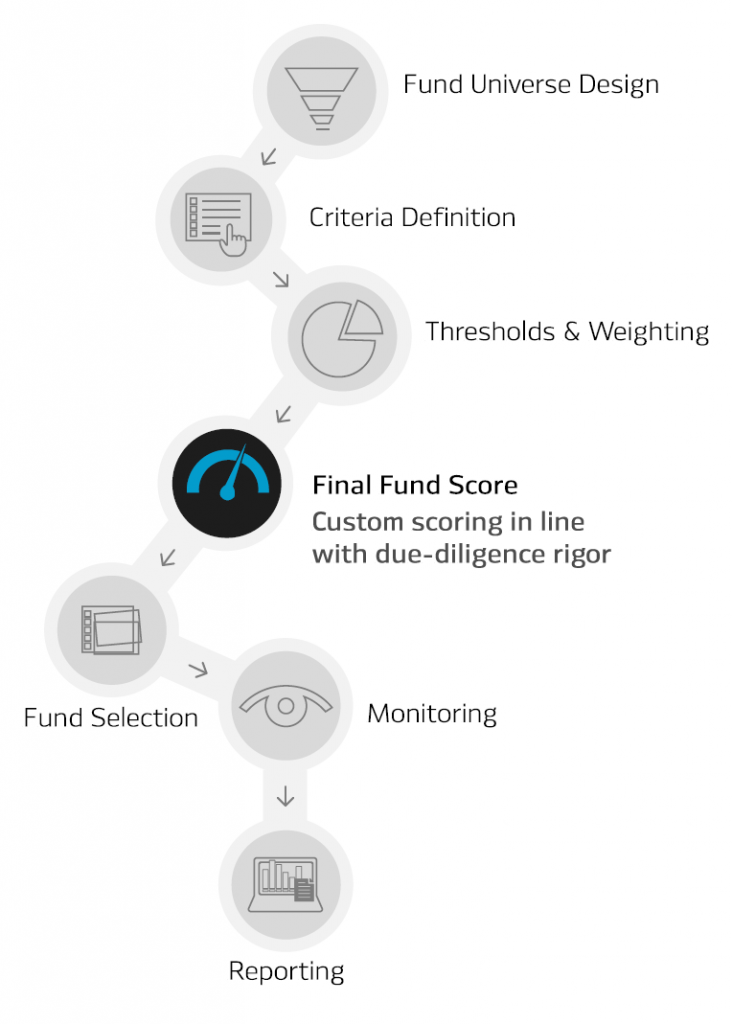 Business Intelligence Features
Report archive
Centralized fund commentary
Home-office usage reports
Global fund watch and replacement
Practice management dashboard
Experience what MPI Stylus Web offers
MPI Stylus Web delivers flexible analytics with powerful but easy-to-use graphical and charting capabilities that let advisors create, modify, and distribute institutional-quality reports in minutes.
Need a Custom Solution?
Some organizations might benefit from an even higher level of customization in analytics or reporting. MPI's Professional Services team implements solutions that meet our clients' unique investment data, analytics (such as IPS scorecard), corporate branding, compliance, and reporting needs.
Stylus Web content can also integrate with or power other client applications such as CRMs, internal research and reporting tools, and client portals.
MPI Stylus Web
Right-sized, right price, and the
right workflows for advisors