MicroStrategy: For Whom the Margin Calls
Investors – and the Feds – need to focus less on specific stories like MicroStrategy's Bitcoin exposure, and more on how big the systemic risk picture may be for all of us.
May 17, 2022
Related: Berkshire Hathaway's Annual Beauty Pageant; Bitcoin's Unlikely Performance Doppelganger; Musk Tweets and Margin Calls; Duke Endowment to the Moon
The cryptocurrency crash of the past few weeks has treated investors to a (very expensive) three-ring circus. TerraUSD, an algorithmic "stablecoin", lost its dollar peg, causing a chain of events many blame for the current meltdown.  Tether, the largest (and asset-backed stablecoin) had also slipped, but found its way back to $1…after successfully processing  $3B in withdrawals in a single day.  And the government let it be known that it's not thrilled about Fidelity's decision to push Bitcoin into its 401(k) offering.
There has also been high (and some might say gleeful) anticipation of a margin call on Michael Saylor's MicroStrategy (NASDAQ: MSTR), whose leveraged accumulation of Bitcoin is no secret.  It began in the second half of 2020, and is plain to see from looking at the stock's rolling annual performance.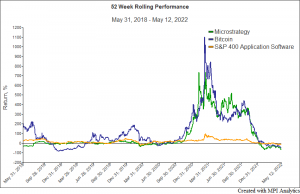 What is not plain is the market-perceived magnitude of the company's Bitcoin bets – and this is where the dynamic analysis of returns comes in. In order to replicate the behavior of the MicroStrategy daily performance in the MPI Stylus system, we used the S&P 400 Mid-cap Application Software sector to represent the company's main business line; and then added Bitcoin and 3-month T-bills as a Cash proxy. The resulting dynamic portfolio below closely tracks MSTR returns, providing a consensus of both analysts and individual investors on the company's past and immediate future drivers of performance. Just months after the first on-balance sheet Bitcoin purchase, MicroStrategy still looks like a software company – but has an almost 100% overlay of leveraged Bitcoin purchases.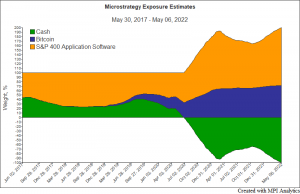 Note our emphasis on the word "looks". As seen in MPI's analysis of Berkshire Hathaway, the market-determined price of a stock may have as much to do with investor perception as its fundamentals.   In this case, the perception (or sentiment) appears to be that of a software business used as collateral to buy a nearly equivalent amount (in capitalization) of Bitcoin.
Given these factors, it's no wonder that MicroStrategy's stock had lost significantly more than Bitcoin by the end of last week , down from their joint November 2021 price peak. Bitcoin lost a substantial 57% through Thursday, May 12th.  A 40/60 blend of Bitcoin and the S&P 400 Application Software index (in approximate proportion to their relative exposures) would have lost a more modest 39%, but the gearing effect of leverage (partially perceived, partially literal) dragged the stock down to lose 80% of its value.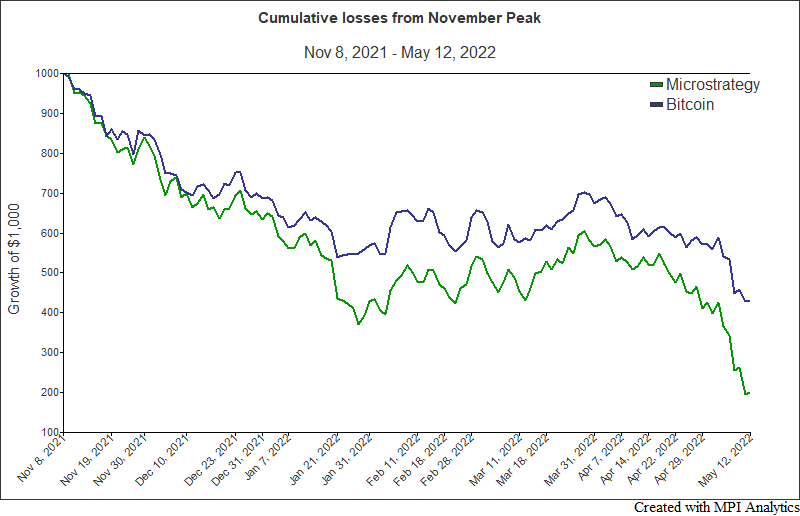 Getting over the initial shock of seeing a publicly traded company appear riskier than one of the riskiest investment options in the market, let's look at the exposures to see where things might go from here. We used scenario analysis in MPI Stylus to estimate the effect of an additional shock to cryptocurrencies and software stocks.  Estimated on Thursday, May 12th and assuming an incremental -20% loss to Bitcoin, and -10% to mid-cap software stocks, MicroStrategy could experience another 41% in losses.  Both stocks and cryptocurrencies had recovered somewhat by the end of Friday, but this technique allows us to quantify current risks using market exposure estimates.  But let's be honest – things are going to keep changing quickly…this level of volatility requires ongoing monitoring – and a frank understanding of the fact that the true investor risk exposures out there are more widespread than people realize.
In other words, the government officials worried about Bitcoin ending up in Fidelity employee's 401k plan should probably take a step back and look at the big picture. This one publicly traded stock isn't the only mainstream product betting on Bitcoin/crypto; other stocks will have exposure, and the mutual funds/ETFs that hold those stocks will carry that exposure, plus any discrete crypto exposures they add to the mix.
And as our MicroStrategy analysis demonstrates, these exposures can be picked up and accounted for in available investment returns, so the tools are out there for investors to consider the hidden risk in their own portfolios. We hope they take a few minutes off from enjoying the circus, to make sure they aren't about to become a part of it.
DISCLAIMER:
MPI conducts performance-based analyses and, beyond any public information, does not claim to know or insinuate what the actual strategy, positions or holdings of the funds discussed are, nor are we commenting on the quality or merits of the strategies. This analysis is purely returns-based and does not reflect actual holdings. Deviations between our analysis and the actual holdings and/or management decisions made by funds are expected and inherent in any quantitative analysis. MPI makes no warranties or guarantees as to the accuracy of this statistical analysis, nor does it take any responsibility for investment decisions made by any parties based on this analysis.