MPI BEST 20
Providing an alternative way to gain exposure to elite hedge funds that have performed well in volatile and down equity markets.
Why MPI Barclay Elite Systematic Traders Index
The MPI Barclay Elite Systematic Traders Index (BLOOMBERG: MPBEST20) was constructed to capture the returns of the 20 largest systematic traders. The index was developed to meet the demands of institutional investors seeking a more selective benchmark representative of hedge funds that deliver equity market diversification.
Utilizing MPI's patented Dynamic Style Analysis model, the MPI BEST 20 Tracker Index (BLOOMBERG: MBEST20T) is designed to track returns of the MPI Barclay Elite Systematic Traders Index, a non-investable hedge fund benchmark designed by BarclayHedge and MPI. Comprised of liquid, transparent ETFs, MPI BEST 20 Tracker Index data can be licensed to build investment products.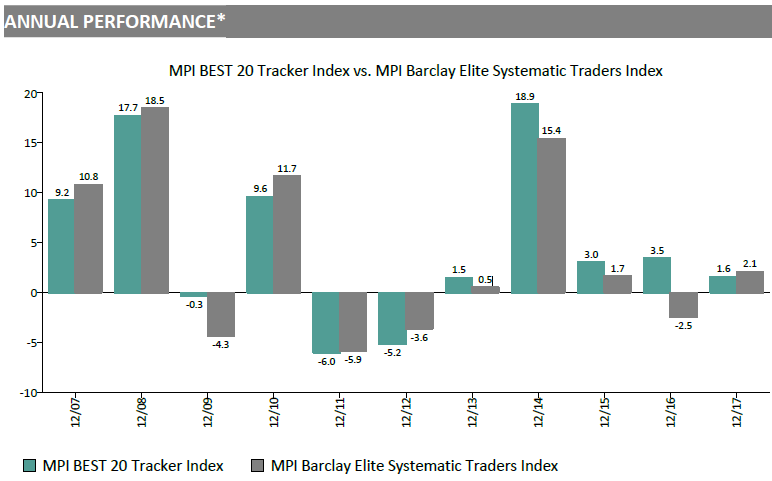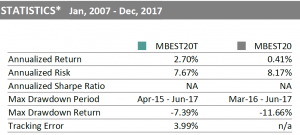 *Performance data prior to launch date is based on simulated performance and is purely hypothetical and may not
be an accurate or meaningful comparison. Index performance results are based on criteria applied retroactively with
the benefit of hindsight and knowledge of factors that may have positively affected its performance, and this data
cannot account for all financial risk that may affect the actual performance of the index and tracker. In addition,
performance for the tracker is net of pro-forma 1.5% fees and expenses. Past performance (actual or simulated) is
not necessarily indicative of future results. No representation or warranty is made that any returns indicated will
be achieved.